Ron Colsonís Country Classics Show features the best Country Music from the Golden Years of Country music. Some selections date back to the very roots of todayís Country Music, with the biggest stars of the Grand Olí Opry. The biggest hits of the 50ís, 60ís, 70ís, 80ís and early 90ís are the core of the music mix, with some other songs that you havenít heard in years tossed in for good measure.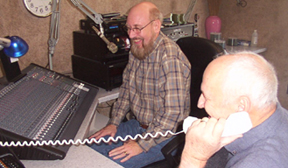 Lar and Ron in the Studio




Ronís been on the radio in the Danville area for over almost 30 years, and since joining KISS COUNTRY five years ago, has teamed up with Larry Weatherford to bring listeners these great sounds of traditional country music on Saturdays from 9:00 am until 12:00 noon (Illinois time). Ron says that working on the air with Larí is a blast and a unique experience each week. You can tell by listening that theyíre having fun and thoroughly enjoying the music. Weekdays, Larí hosts the morning show on KISS COUNTRY with Greg Green, while Ron sleeps inÖ.now that heís retired from teaching for a second time.

Both Ron and Larí love the music, and have been on stage with some of the biggest stars in the galaxy of Country Music, both old and new. Lar was a first-grader when Faron Young called him up to sing along at a performanceÖ. and heís liked the view from the stage ever since. Ronís been hooked on auto-racing since he was a youngster. As a matter of fact, Ron has attended every Indy 500 race since 1952.

Ron and Lar both feel blessed to be doing a job they love! And they love playing requests. So call Ďem up at 217-442-KISS or 765-793-KISS, or e-mail ron@kisscountryradio.com .



<! -- ELEMENT FOOTER --->




---
KISS Country - Covington/Danville

SALES
PO Box 67
Danville, Illinois 61834-0067
217-442-KISS (5477)

STUDIOS
PO Box 67
Covington Indiana 47932-0067
765-793-KISS (5477)

E-Mail KISS Country
---
EEO Report | Privacy Statement
Copyright © 2009 - 2015, KISS Country Radio 103.1 FM All rights reserved.